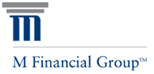 M Financial Group is one of the nation's premier financial services design and distribution companies, serving affluent individuals, corporate executives, entrepreneurs and Fortune 1000 companies through an exclusive network of over 115 successful and innovative independent financial services firms.
Founded in 1978 on the revolutionary idea that individual success could best be achieved through collective efforts, the Member Firms of M Financial Group work together to make each other even more successful and share a common focus: to offer a broad range of insurance, investment and executive benefit solutions designed to help clients meet their financial goals. In many respects, M Member Firms have the best of both worlds access to the resources of a large organization of leading financial services firms and the independence to serve the best interests of their clients.
M Financial Group consists of – and is owned by – a national network of more than 115 independent Member Firms carefully chosen from among the elite leaders in the industry. M Member Firms are committed to serving their clients in the most ethically responsible and strategically sound manner. While Member Firms may specialize in specific fields, all are experts in dealing with the complex issues that face affluent clients and their advisors. Member Firms regularly work with top legal, accounting, banking and other advisors to guide affluent clients and corporations in making important financial decisions.
M Financial Group was founded on the principle that "off-the-shelf" products often do not meet the needs of the affluent and corporate markets.
The client base of M Member Firms represents extraordinary premium volume, mortality and persistency trends, as well as exceptionally high average policy face amounts. This, coupled with M's buying power ( Member Firm sales totaled $2 billion in 2007) translates into the ability to work closely with major insurance carriers and product manufacturers to create innovative and proprietary products designed for wealth preservation and executive benefits programs.
Working with an M Member Firm provides the assurance of working with professionals whose interests are aligned with those of their clients and who can provide truly customized approaches for specific client needs.
Because we are a part of M Financial Group, our clients have access to a number of advantages, including M Financial Group's purchasing power, proprietary products, expertise, carrier alliances and due care.
Please go to www.MFIN.com/DisclosureStatement for further details regarding this relationship. For more information on M Financial Group go to www.mfin.com.