November is Long Term Care Awareness Month (#LTCAM) and though no one WANTS to think about needing Long Term Care, the fact is more than 70% of American's will need home health care or LTC services at some point in their lives.
With Thanksgiving on the horizon, November is a good opportunity to begin these important discussions with family and friends – and we can help.

Long Term Care planning strategies are evolving as new tools and insurance products are being rolled out to meet the needs in a changing landscape.
Long Term Care Insurance (LTCi) is not what it used to be. The new asset-based products have become an essential tool for holistic financial planning (click here to read a recent WSJ article).
LTCi also: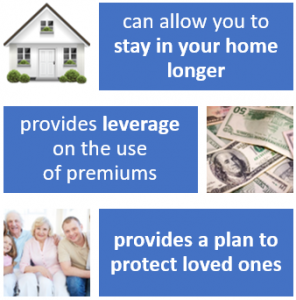 Remember, having a checkbook is not a plan. LTCi is "the plan" to protect loved ones, the insurance is only the wrapper.
If you are considering LTCi, November is a perfect opportunity to show gratitude to those you love by sharing your plans.
LTCi provides a stream of income to fund "the plan" and offers this peace of mind by:
++Paying others to provide care – allows loved ones to supervise the care versus become the care-taker themselves
++Removing the burden on the loved ones to coordinate the care. Concierge Care Services* provided by the insurance company includes research, planning, coordination, and implementation – protecting the emotional and physical well-being of those you love.
CLICK HERE to learn more about Concierge Care Services* 
++Maximizing reallocated assets to cover LTC expenses (leaving inheritances intact)
CLICK HERE to see the power of leverage in new asset-based LTCi products
++Tax-free death proceeds if you pass away
++100% return of premium if you change your mind
          *Concierge Care Services provided by select carriers.
Take this quiz to learn 10 more things you should know about LTC.
Before you head out this month to visit family, CONTACT US so we can provide you helpful information and talking points on LTC strategies.